It's often said that the way to a person's heart is through their stomach.  I don't know about you, but I find food to be a love language.
Valentine's Day is right around the corner and we're seeing love show up in many forms.  If you're opting for a cozy home cooked meal over eating out this year, there are a variety of delicious options that nourish the heart, body and soul.  It's nice to dress up and go out on the town, but there is something fun, flirty and heartfelt about staying home.  Cooking is a big part of our relationships and something we enjoy doing together or enjoying alone as we connect to the relationship with ourself.  It combines many things we love such as nourishing foods, community, connection and making memories.
I often choose a delicious steak (bison or beef), roasted red potatoes, green beans (or veggie of choice) and a salad.  I also love to sweeten up the menu with my Dark Chocolate Covered Strawberries
❤️ I welcome you to check out a magazine article that I co-created with a local magazine.  Sharing my full Valentine's Menu here: A Date Night Dinner for Two
This Heart Beet salad is simple to make, packs a delicious punch of flavors and provides a variety of health-promoting properties.
Beets support the health of your heart, digestive system and brain.  They nourish the liver which supports detoxification.  Beets also help to eliminate inflammation, boost athletic performance and are low in caloric intake.  They are loaded with potassium, vitamins and antioxidants.
This Heart Beet recipe can pair with a protein for a main meal or compliment a main dish as a sexy side.  I invite you to enjoy the recipe as it's shared or spice it up with a variety of nuts, seeds, cheeses or an added touch of red onion.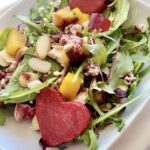 Heart Beet Salad
INGREDIENTS:
Arugula or Mixed Greens of Choice
2 Beets, cut into bite size squares or hearts using a heart shaped cookie cutter
Goat Cheese (regular or cranberry and tarragon)
Sliced nuts (almonds, walnuts and pine nuts are a great option)
Optional: Red Radish Microgreens and Red Onions, thinly sliced
To Prepare the Beets:
Preheat oven to 425 degree
Gently toss beets in 1-2 Tbsp avocado oil or oil of choice.
Roast in a cast iron or oven safe pan for 30 minutes. Flipping half way through the cooking process.
Beets are fully cooked when a fork or knife can be pinched through them.
To Prepare the Salad:
1. In a bowl or serving platter, place greens as a base.
2. Mix the microgreens (if using) with the salad greens.
3. Top the greens  with beets and  goat cheese.
5. Sprinkle nuts, if using and serve with dressing.
White Balsamic Dressing:
½ cup  Infused Olive Oil or Oil of Choice https://oliveandbasket.com
¼ cup White Balsamic Vinegar https://oliveandbasket.com
1 Tbsp raw honey
Optional: Salt and Pepper to taste
Dressing Directions:
In a mason jar with lid or mixing bowl, mix oil with a gradual drip of balsamic to taste.  Depending on the desired sweetness.  Add the honey for desired texture and taste.  If using, finish with salt and pepper.  Shake or stir to combine ingredients before serving with the salad.  Leftovers can be stored in a mason jar or storage container.
ENJOY!
❤️ This Valentine's Day, have fun "cooking up" a dash of  laughter, a spoonful of togetherness and heap of love while you make your own memories. ❤️
XOXO,
Kim