When the weather is cold and dreary, I crave good, hearty food.  That's exactly what happened this past weekend when we had snow and ice.  I make a lot of stews, soups and chili recipes this time of the year, and I knew exactly what I wanted this past weekend.  A big bowl of my healthy and hearty slower cooker beef stew.
I love a good hearty meal when the weather is not so delightful.  I remember growing up as a child and having the most wonderful, warm and hearty meals at home.  Especially after a good snow storm and being out sledding all day.  My mother and grandmother taught me a lot about family and food.  That's why I get all warm inside when I eat these kinds of dishes.
My family has a southern background, so I grew up around a lot of heavy and "not so great for me" foods.  That's why I love taking different recipes and altering them. Not only do I feel better, but my digestive system thanks me for it.  You can still eat good, hearty food and eat well.
This recipe is perfect for the winter but can be enjoyed anytime throughout the year.  Not only is it filled with clean, farm to fork ingredients, but it's easy to make.  I love my crock pot this time of year and use it often for meals.  Not only will your family love this recipe but your home will smell yummy too!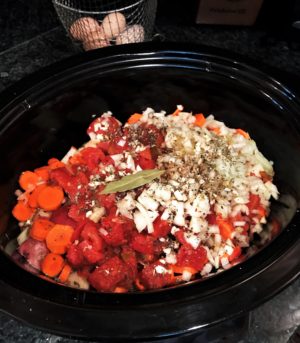 Healthy and Hearty Slow Cooker Beef Stew
Ingredients:
2 pounds lean, grass fed chuck meat, cut into bite size pieces
1/3 cup stone ground white rice flour* (or your flour of choice)
1 (14.5 ounce) can of diced tomatoes, with juice (preferably organic and BPA free)
4-5 red potatoes, cut into large bite sized pieces
3 carrots, peeled and cut into bite sized pieces
2-3 cloves of fresh garlic, peeled and minced
1/2 cup chopped onion
1 Bay Leaf
1-1/2 cups low sodium beef broth (organic and homemade are better options)
1 Tbsp balsamic vinegar
3 tsp Worcestershire sauce
2 tsp black pepper
2 tsp paprika
2 tsp dried oregano
Olive Oil (for browning)
DIRECTIONS:
In a bowl, whisk flour and pepper together.  If using salt, add it in here as well.
Lightly coat all sides of the bite sized pieces of meat with your flour mixture.  Start to warm (medium heat) up a skillet on your stove top with a little olive oil.  Place portions of your flour coated meat in the skillet.  Allow them to cook for about 20-30 seconds per side.  You want to lightly brown the outside of the meat but not cook through.  Remove the cooked pieces and set to the side.  Continue until you have cooked all of your coated meat.
Add your cooked meat pieces to your slow cooker.  Add your prepared potatoes, carrots, onions, garlic, diced tomatoes (with juice) and Worcestershire sauce.
Combine your broth, balsamic vinegar, spices and them add in with your meat.  I like to place my bay leaf under some of the ingredients, but that's just me. 🙂
Cover and cook your ingredients on high for 4-6 hours or low for 8-10 hours.  Stir well through the cooking process.  The ingredients will soak up a lot of the liquid and create a yummy, hearty texture.  Make sure they don't get too dry and burn.  You can always add in a little more broth, but it's been my experience that everything cooks well and comes together perfectly at the same time.
*NOTE:  Minus some of my condiments, I try to stick to a gluten free meal plan, so I use Bob's Red Mill ground white rice flour for my dishes when flour is recommended.  You can use another kind of flour as well.  I'm not a huge fan of salt, so I omit it from most of my recipes.  Please add in and taste as desired.  Same with the spices. I am a huge fan of spices, so I tend to add a lot.  Please omit if you want to keep it simple.  I also LOVE garlic and onion (for the taste and health benefits), so if it's too much for you, adjust the ingredient size.  It's your dish, so add in (or take out) what you like. 🙂
I would love to hear your feedback after trying the recipe.  Please comment below or message me with any comments or questions.  I hope this hearty, healthy recipe is as much of a hit in your home as it is in mine.
Wishing you a warm, healthy holiday season!
XOXO~
Kim