If you're not making Bone Broth at home, I highly encourage you to try this simple and healthy Homemade Bone Broth Recipe.  Not only is it delicious, but it provides many benefits.  Bone Broth contains a high collagen content and is an excellent source of minerals.
When I first started learning about gut health, I was introduced to bone broth.  I was a little intimidated when I thought about making it but gave it a try anyways.  Since that day, it's become a staple in my home and in my nutrition plan.  It stores well in the fridge (up to 7 days) and can freeze for up to 6 months.  Bone Broth is great to have in your freeze when an illness hits your home.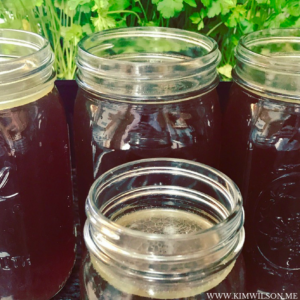 some of the many benefits of Bone Broth:
Improves gut health and digestive issues
Supports joint health
Helps to overcome food intolerances and allergies
Boosts detoxification
Improves the appearance of healthy skin, hair and nails
Supports brain and immune health
Acts as a natural anti-anger
Helps to improve sleep
Reduces Inflammation
Improves mood
where to find stock and broth bones:
Your local butcher (pasture raised and grass fed, if possible)
Your local farmers market (pasture raised and grass fed, if possible)
Leftover from a meal you roasted

bone broth recipe (slow cooker)
ingredients:
2-4 lbs of bones (bison, beef, turkey or chicken carcass, etc)
4 stalks of organic celery, roughly chopped
4 organic carrots, roughly chopped
1 large organic onion, cut in half and quartered
4 cloves of garlic, peeled and chopped
2 Bay Leaves
Handful of fresh herbs (I like to add parsley)
4 Tablespoons Apple Cider Vinegar (helps draw in more of the goodies from the bones)
1 teaspoon whole peppercorns
Dash of salt (or more if desired)
Filtered water
*Optional: Chicken Feet
directions:
If you're using bones with marrow (like bison or beef), roast your bones in a dish or on a baking sheet at 375 degrees for 45-60 minutes.  Turn your bones half way through the cooking time. Roasting these hearty bones is important!  This process delivers a beautiful color and TONS of flavor.
Place your bones of choice into your slow cooker.  I love to use the slow cooker, but you can also use a pot on your stove or an Insta Pot.
Add in your veggies, garlic, bay leaves, salt and pepper (if desired) and apple cider vinegar.  Fill your crock pot with filtered water, leaving about an inch or two of room at the top.  Some of the liquid will slowly cook down, so don't worry about it boiling over.
Set your slow cooker to Low Heat and cook for 24-48 hours.  I like to cook mine for a long time. Not only does it enhance the flavor but the kitchen smells incredible too!  Don't worry about overcooking.
During the last 30 minutes, add your fresh herbs.  Some people like to add the garlic here, but I like mine during the entire cooking process.  Discover what works for you and your taste buds.
Once the broth is done to your liking, turn off the heat and allow it to slightly cool.  Carefully remove and discard bones and any additional ingredients with a slotted spoon.
Using a colander, strain the rest of your broth into a bowl.  Scoop out any additional pieces that still may be present.
Ladle your broth into jars and refrigerate promptly.  I like to use Mason Jars when storing in the fridge.  If you're freezing your broth, do so now.  Depending on how often you plan to enjoy it, you may want to freeze half of the batch and refrigerate the rest.  Personally, I keep it in the fridge because I enjoy it everyday.
Note:  Once the broth has cooled, you will see the fat rise to the top.  This is a healthy fat.  If you do not desire to consume it, wait until the broth has chilled in the fridge.  It will form into a chilled layer and can easily be removed.
If you're broth turns into a gel form, it's a good thing. ?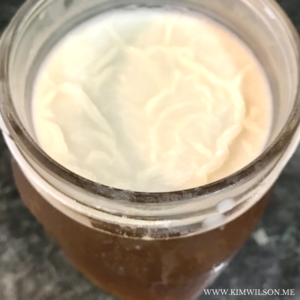 Bone broth is just as delicious when served alone as it is with other ingredients.  This broth makes an incredible soup.  Lately I've been a fan of bison broth but I enjoy many others.  The variety of color depends on how long you've cooked it and what kinds of bones you're using.  I get my local bison bones from Gunpowder Bison & Trading Company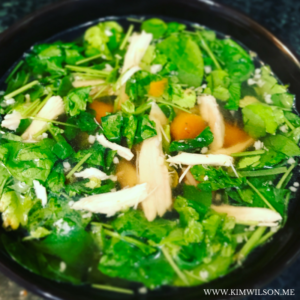 Have you made bone broth yourself?  What kind of bones do you enjoy the most?  I welcome your comment and feedback below.
XOXO,
Kim