Roasted artichokes are wonderful as a snack or side option to any meal.  They provide so much flavor and have a variety of health benefits. They are a rich source of fiber, vitamins and minerals.   Artichokes have a large antioxidant value and help prevent illness.  Their natural properties help to improve liver function and detoxification to remove toxins in the body.
Artichokes help soothe inflamed gallbladders and aid in digestive health.  They also provide bone health, increased brain function and reduce bad cholesterol while increasing good cholesterol.
With all of these benefits and more, roasted artichokes are a wonderful compliment to your plate.  Especially when prepared in a healthy way.
When I started thinking about cooking methods and recipes, I kept thinking about steamed or roasted artichokes that are doused in butter.  That's a common method that's prepared and enjoyed by many.
I knew I wanted to incorporate garlic and oil as an alternative to the butter.  I love lemon with garlic, so I decided to experiment and come up with a recipe that provides a lot of flavor. Not only did my house smell incredible while the artichokes were roasting, but the finished product left me adding this recipe to my "favorites list."
I hope you enjoy this recipe as much as I do!
Lemon and Garlic Roasted Artichokes
Serves: 2 Artichokes
ingredients
2 Artichokes (preferably organic)
8 Cloves of garlic (whole)
Fresh juice from 1 lemon
Zest from 1/2 of your lemon
2 Tbsp avocado oil (or oil of your choice)
1/2 tsp lemon pepper seasoning
Pinch of salt (optional)
 directions
Preheat your oven to 425 degrees.
Using a sharp knife, carefully cut the top third of the artichokes and the stem at the base.  With the base cut, the artichokes will sit well on your cutting board.  Using your knife, core out the center of the artichoke to make room for your garlic.  Using your fingers, pull and separate the leaves.  They will stick out a little on the sides.
Make two squares of foil to hold your artichokes for roasting.  In a small bowl, mix your oil, lemon juice, lemon zest and seasoning.  I don't cook with salt, but if you want to add it in, do so now.
Take your garlic cloves and evenly distribute them into the core of your artichokes.  The number of garlic cloves you choose to use is completely up to you.  I love garlic (and the health benefits), so I go a little overboard when I cook with garlic.
Set your stuffed artichokes on their individual foil pieces.  Drizzle your oil combination evenly over both artichokes.  Once you've covered your artichokes and drizzled the oil evenly between the leaves and top, fold up and wrap your artichokes.  Placed your wrapped artichokes in a glass baking dish.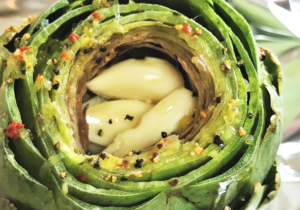 Roast artichokes in the oven for 50-65 minutes.  Once you're done roasting, remove your dish from the oven and carefully unwrap your roasted artichokes.  Enjoy!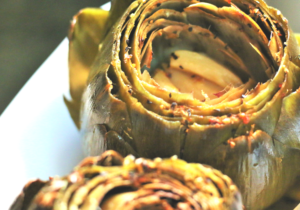 If you try this yummy recipe, i would love to hear your feedback.  I welcome any comments below.
XOXO,
KIM