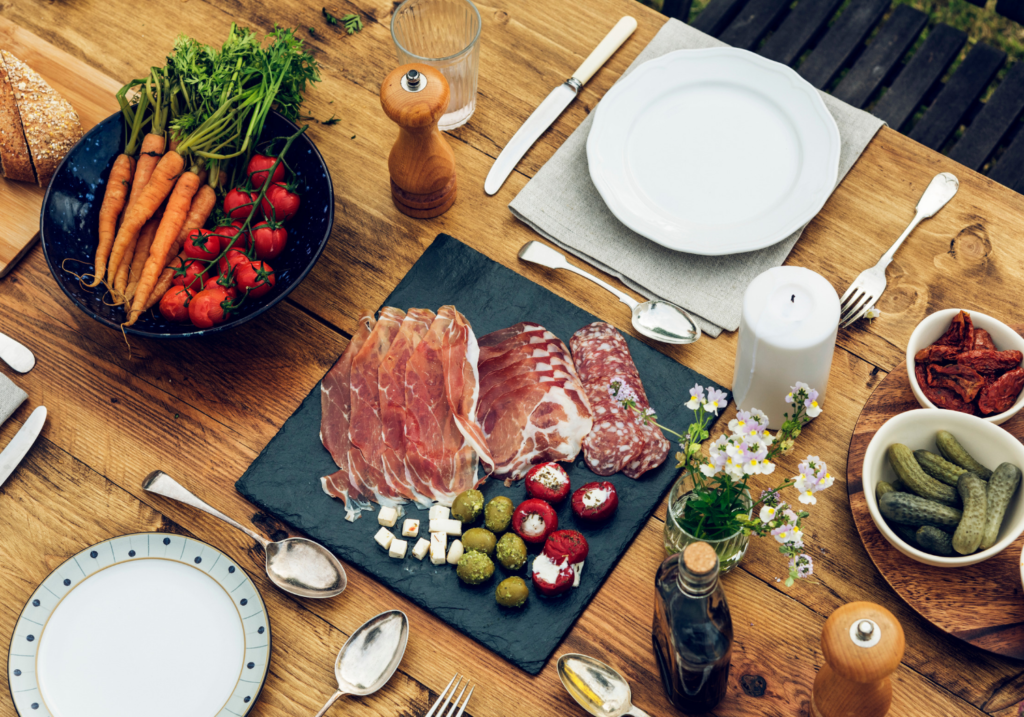 Ladies, you've been sharing and I've been listening!
We've heard about the fun concept of a book club and now I'm crashing your kitchen with a cooking club. That's right… let's kick off the New Year with friends (old and new), good food, wine (or beverage of choice) and a fun community.
I know we're busy between life, responsibilities, work, family and everything else that we balance. Even more of a reason to take time to try something new, improve your cooking skills, meet new people and bump up that self care tank.
Are you a working mom with a busy household? Do you want to discover easy, simple meals to nourish your family?
Are you a stay-at-home mom who wants to enjoy cooking more and would love to meet new people?
Are you a recent graduate and living on your own? Trying to discover ways to enjoy cooking and making new nourishing dishes?
Does cooking sound overwhelming and complicated? You would much rather grab the "delivery menu?"
There are so many scenarios I hear on a daily basis. These are just a few and ones you may resonate with.
Whatever your lifestyle, this community is for you!!!
Imagine this…
An online community of women where we can just be ourselves, learn new things, connect, laugh and cook
A community of women who share recipe ideas and support one another
Healthy, simple recipes to nourish you and your family (from my kitchen to yours)
Shopping lists to help make your life easier and less overhelmed
Live online connections where we can gather virtually each month from the comfort of your own home
Healthy cooking tips and ways to create a healthier stocked kitchen
Fun bonuses and MORE
Ladies, let's take the stress and overwhelm out of the kitchen! Let's make it a fun place to gather, experience new things, laugh and share. Plus, you get to impress your family and friends offline with your cooking creations.
I know the overwhelm and struggles because I've been there and I hear them all of the time. That's why I am so passionate about creating this community to help you and bring you together with like-minded women.
This monthly cooking club is a great opportunity to expand your skills (and confidence) in the kitchen. It's a great way to do something for YOU because you give so much to others. It's a non-judgement group of women who are also on the GROW.
If you're ready to join this community and kick off the New Year with a fun group that's going to spice things up in the kitchen, I welcome you join us!
START DATE: JANUARY 1
SPACE IS LIMITED! REGISTER NOW
(only $20 a month, BILLED MONTHLY)
LOOKING TO SHARE GIFT IDEAS THIS HOLIDAY SEASON OR SAVE MONEY YOURSELF?
WHEN YOU PURCHASE A YEAR MEMBERSHIP, YOU RECEIVE
TWO MONTHS FOR FEEE!
BUY A YEAR'S MEMBERSHIP! only $197 for a full year!
Q&A's:
Is this an in-person or online event?
This fun, energetic cooking club will be online for easy accessibility, community, communication and the ability to reach ladies near and far. We have a private Facebook community with live videos that will be available for replay. 🤗
how often will we be "live" in the kitchen?
We will be in the kitchen together twice a month. Depending on holidays, the schedule will be pretty consistent, so you will know when we are "cooking together." If your schedule does not allow for some of the times, no worries. We will be recording the cooking events for those to watch later or replay.
do i have to cook on the videos or can I just watch, observe and interact?
We want everyone to be comfortable, so do whatever is right for you and what you want to get out of the club. You're welcome to come on and cook, sit back and sip on some wine or tea, jump in with some laughs and chats, catch a replay and cook later. Whatever works for you!
how often will i receive recipes?
Yummy, healthy (and simple) recipes will be provided each week. This isn't an over complicated meal plan. A healthy meal (main and sides) will be included each week. You will know ahead of time what we are cooking and feedback for adjustments in the group is always welcome.
bonuses:
Additional materials, tips, cooking short-cuts, shopping help, pantry makeover and other fun goodies will be provided throughout the year. This can also be discussed anytime throughout the group. That's one of the main reasons for this fun community!!!
BIG BONUS: Special guests and cooking locations are included on some of our LIVE events in the group. I'm excited to have ya'll travel along with me this year! In addition, there may be some goodies for those of you who participate throughout the year! 😉