It's that time of the year again! The holidays are here and our schedule is filled with family events, holiday parties, food, cocktails, long to-do lists and stress.
DO YOU GAIN 5 POUNDS JUST THINKING ABOUT THAT HOLIDAY PUMPKIN PIE? HAVE YOU ALREADY STARTED STRESSING ABOUT THE CHANGES IN YOUR EVERYDAY ROUTINE?
Does the stress of family gatherings and frantic gift shopping make you want to face plant in a bowl of mashed potatoes and not come out until New Year's?
We all know that the holidays can be taxing on our health. The endless parties and parade of tempting treats can leave us feeling tired, bloated and ready to break out the elastic waistband.
What if you had a simple plan to take away the worry? What if you could navigate through the holiday season without gaining weight, feeling sluggish, or totally stressing out?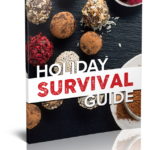 Imagine this…
You make it through the entire holiday season without the bloating, fatigue or weight gain.
It is possible. I know because I developed a plan to make it through the holidays feeling fabulous.
This plan has solutions for you whether you're tempted by grandma's homemade pie at your family get-together, struggling to keep your cocktail intake in check at parties, or wondering what to eat if you're traveling and on the go.
I am here to walk you step-by-step through, what I call, "how to make it work in the real world when temptation is everywhere."
Ladies, we are NOT talking about deprivation during the holidays. Instead, I want to give you approachable ideas to help you enjoy the sweetness in life without counting calories. That's right… I don't count calories. I love my healthy relationship with food and don't stress calories because I know I'm eating real, healthy food. I discovered what works for me and it's important to discover what works for your own beautiful self.
Don't worry though, that beautiful, black party dress or the bathing suit you bought for your holiday vacation will still fit.
This Holiday Survival Guide includes my best tips for maintaining your weight, de-bloating after meals and handling stress this holiday season. Not sure what to take for a dazzling dish? Are you questioning which healthy (and delish) meals to make? No worries…I've got you covered. In this guide, you will have several options for delicious dishes that won't hurt your health.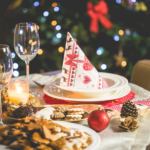 PLUS, I've given you a BONUS 4-Day Post-Holiday Healthy Reset Plan with meals and tips to help you get back on track after a night (or few) of indulgence.
LADIES, GET READY TO MAKE IT HAPPEN WITH MY HEALTHY HOLIDAY SURVIVAL GUIDE!
The Healthy Holiday Survival Guide comes with everything you need to make your health (mind, body and spirit) a priority this holiday season, regardless of how many pies cross your path. Speaking of food, this guide is packed with delicious, healthy holiday recipes that will be sure to please your co-workers, friends and family.
WHEN YOU SIGN UP FOR THIS GUIDE, YOU GET:
– My E-Guide (over 50 pages) loaded with recipes, tips for keeping your sanity (& current dress size) during the holidays
– Strategies that teach you when & how to say "no, thank you" to food
– AND how to say "yes, please" and actually enjoy your indulgence, GUILT-FREE!!!
PLUS YOU GET MY 4-DAY POST-HOLIDAY HEALTHY RESET PLAN, WHICH INCLUDES:
– 12 delicious, easy to prepare recipes to get your body feeling great after a night (or few) of celebrating
– A 4-day list of yummy meals for breakfast, lunch & dinner to guide you through the reset with ease
THIS IS A NO WORRYING, NO WONDERING PLAN FOR NAVIGATING THE HOLIDAYS WITHOUT DEPRIVATION OR OVER-INDULGENCE.
You can have a healthy, happy, energetic holiday season even if you:
Work crazy hours at a corporate 9-5
Are trying to wrangle your family AND get ready for a huge family feast
Feel like you can never say no to holiday treats
Or are worried that your favorite cocktail dress won't fit 3 weeks from now
This Healthy Holiday Survival Guide will show you how!
BONUS! You don't have to do this alone! Support and community is HUGE this time of the year. When you purchase my Healthy Holiday Guide, you will be invited to join our online community.
With our online community support group, you will have access to:
Your own health coach (ME). In our group, you will receive support, accountability and me as a resource.
Additional printable resources and other freebies to help inspire and support you through the holiday season and into the New Year. Big $ Bonuses for FREE!
I'll be in the group supporting you, answering your questions and cheering you on.
Community: A huge part of your success and sanity! That's right… So many others are experiencing and thinking the same as you. I hear the same frustrations, concerns and struggles every holiday season. You're not alone.
ARE YOU READY TO ENJOY THE HOLIDAYS WITH HEALTH AND HAPPINESS?

LET'S DO IT! LET'S GET THIS PARTY STARTED!
CLICK BELOW TO JOIN OUR COMMUNITY AND GET YOUR HOLIDAY GUIDE
REGUALR PRICE: $47
LIMITED TIME HOLIDAY SPECIAL: $17
FROM MY HOME AND FAMILY TO YOURS, BLESSING AND BEST WISHES FOR A HAPPY AND HEALTHY HOLIDAY SEASON!
* Please Note: This guide will be delivered to you shortly upon payment. This is an E-Book and not a hard copy book. Once purchased, there are no refunds on this product.