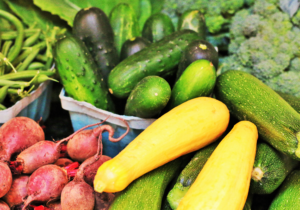 Hello, Friends!  Happy friday!
I'm so excited to visit my favorite farmers market this weekend!  When the market is in season, I spend every Saturday (sometimes other days too) morning shopping local and conversing with the farmers in our town.  I love learning from the farmers and hearing more about their farming practices.  If you wonder how your food is grown and picked, don't be afraid to ask.  Farmers love to share and provide knowledge.
Did you know that farmers and ranchers receive a small percent of the price of food we eat?  Most of that cost goes towards distribution, marketing, processing and retail.
There are several reasons why I love to shop at the Farmers Market!  Not only do I love shopping local and from small businesses, but I love the quality of farm fresh food.  I am so blessed to live near many farms, so when the fresh and nutritious food is in season, I load up!  Here are several reasons why I love to shop Fresh and Local at the Farmer's Market.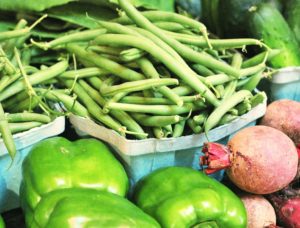 1.  Helps the environment
Eating and shopping local saves a large amount of packaging waste, energy and fuel, which is needed when shopping globally.  In addition, farmers commonly use organic or sustainable growing methods, so your food is not dowsed in chemicals and harmful sprays.  Good land stewardship is supported by buying sustainable products.
2.  Support the economy and your local farmers
When we shop at the local farmers markets, we are contributing to the success of new and smaller farms.  In addition, we help to preserve the farmland in our area.  I would much rather give back to my town and the farmers than shop from a store and get produce from "somewhere."
3.  It's great for your family
Our family has developed a tradition of going every Saturday.  We have so much fun and look forward to it every week.  When you share this experience with your family, you're not only spending quality time with them, but your getting them involved.  Kids love to pick out their own items and take them home to prepare.  Plus, there are many markets that have pets and farm animals for children to enjoy.  Don't forget to bring your puppy dog!  Farmers markets are usually pet friendly too!
4.  Saves money
When you shop at the farmers market, you get much more value for your dollar.  You're cutting out the middle man and saving more money.  Not to mention, free shipping!  I love to load up on my fresh produce, prep and freeze things for the winter.  I love that I can get 3 peppers for $1 when a bag of organic peppers in the store is much more expensive. I cut them into strips and freeze for stir fry dishes and other meals.  I also freeze them whole (tops and insides removed) for stuffed peppers.  There are many ways to save money while enjoying all of these other benefits.
5.  Get involved with your community
Farmer's markets often bring friends and family together for conversation, education and activities.  Many farmers markets hold community events, demonstrations, play music and share education about the food.  As I mentioned before, farmers love to talk about their produce and share tips.  We have one farmer at our market who primarily sells tomatoes.  I've never seen so many kinds of tomatoes in one place.  I love talking with him because he shares recipes for making fresh salsa and tomato, mozzarella and basil dishes.  Their energy and excitement exudes when they talk about dish ideas.  I love it!
6. freshly picked and in season
Have you ever picked a fresh, ripe tomato right off of the vine and bit in?  It's an amazing experience and SO delicious!  That's another thing that I love about the farmers markets.  The food is fresh off the farm and usually brought to the market within hours of picking.  When we get our produce from other areas where transportation is required, it's usually picked too early and covered in junk for preservation.  Which one do you find more appealing and appetizing?
7.  Treat your senses
Not only do farmers markets provide a fun and energetic environment, but they usually provide a delicious one too.  Many vendors and farmers have samples for you to try their delicious goodies.  Anything from sauces to salsa and meats.  I encourage you to explore the different foods and senses that bring you closer to the farms and nature.  Shopping from the farmer's market offers a variety of nutritious foods that are in season and readily available.  It's fun to try new things and experiment with new dishes.
8.  custom sizing
Have you seen the movie "Father of the Bride?  If so, I am sure you remember the scene with the hot dog buns.  It still cracks me up when I think of it!  Seriously, go over to YouTube and see what I am talking about.  Hysterical!
When you shop from the market, you are in control of your  own sizing when it comes to buying produce.  If you need two carrots for a recipe, you can't go to the store, rip open a large bag of carrots and take two out.  Well, I would not recommend it anyways.  At the farmers market, you can choose if you want two carrots or twenty.  Most food is either weighed, sold in bunches or sold individually.
9.  YOU CAN BUY MORE THAN JUST FRUITS AND VEGGIES
Often times, we think of the farmers market as a place for fresh and local produce.  Did you know that farmers markets provide so much more?  There are usually a large variety of small businesses and vendors, such as wineries, candle makers, florists and many even have dog treats.  I love to buy fresh, local raw honey from the market too.  It's what I use in my glazed carrots recipe.  Click on the link for the delicious recipe.  Honey Glazed Carrots
10.  it's just real food
I cannot tell you how much time I used to spend in the store reading labels.  Half of the time, I either couldn't pronounce the ingredients or didn't know what something was.  With farmers markets, you don't need labels for broccoli, spinach, raw honey, tomatoes and kale.  It's just simple, REAL food!  Instead out pulling out your hair trying to read your processed foods, stop on over to the farmers market for some nutritious farm fresh goodies!
i encourage you to check your local paper or online for farmers markets in your area. the usda has provided a great site for you to look up farmers markets close to your home.  National Farmers Market Directory
Why do you love shopping at a farmers market?  I welcome you to share in the comments section below.
Have a wonderful weekend, friends!
XO~
Kim